While waiting to tour the apartment next door to Win Son, I was walking outside through some light rain, on the phone with my mother. I let her know I was going to seek refuge from the weather in my favorite Taiwanese restaurant. "Oh nice! See if you can get some bubble tea." I'd sat at their bar a few times previously - Win Son is less bubble tea, more Taiwan Beer, and an innovative cocktail or two featuring ingredients like jasmine tea infused bourbon and ming river baijiu.
My mother grew up a first generation immigrant in Chinatown, Manhattan. Over the phone, I almost wanted to educate her on how this wasn't just any mom&pop Taiwanese operation you might find on Doyers Street (which, don't get me wrong, are still worth visiting). But I understood and respected her view - her early-20s son tells her he's going to get Taiwanese; it's only natural for her to assume I'd be walking into pó po's kitchen.
And in a way, she's right. Win Son is modernizing classics, much like Warner Brothers remastering and rereleasing Fleetwood Mac's Rumours. Grandma's recipes are out here in full effect, and they are being remastered, remixed and (here comes a slightly hot take) improved upon.
Just A Few Dishes
Most of these photos have been poached from Win Son's Instagram (credit to the photographer Laura Murray). Mainly because I never go there in the daytime, and don't own a nice camera.
Lu Rou Fan makes an appearance, and you can tell the boys and girls in the back spent some time mincing the Red Wattle pork shoulder, and Heritage Breed pork belly which, served over rice, would have the same affect as a direct flight back home to Taipei. This is the ultimate Taiwanese comfort food, and the ongoing debate on whether it originated in Shangdong, China or Taiwan is immediately blasted aside as you cozily dig yourself in to this soulful classic. The braised pork is comforting, fatty, and luscious, immediately reminding you that dieting is never worth it. That same pork lends its flavor to a deep, aromatic sauce which seeps into the rice and blankets the customary boiled egg. Never not worth it.
Fly's Head rears it's funky... well, head. Chang ying tou (蒼蠅頭) is an aromatic pile of minced garlic chives, diced pork shoulder, and Thai birds eye chili for a bit of eye opening spice. Fermented black beans join the party, their distinct flavor and pungent aroma cutting through the intense fattiness of the meat.
(Swipe right for the mediocre photo I took)
Big Chicken Bun. This is a big bird with big Bolo Bao energy (I'm working on trademarking that). Bolo Bao is a traditional pineapple crusted bao, common in China, Taiwan and my hands as a child. Essentially, this sandwich is everything. Nostalgia, fried chicken, fermented tofu mayo, and herbs for health. Get one for the table and split it X ways. Or eat one yourself - there are no judgements here or anywhere.
Nobody would blame you for eating your way through Taiwanese classics all night, but Win Son has a menu full of innovative incorporations of cross-cultural ingredients. You might as well try them all - you'll have to Uber back home to your LES apartment either way.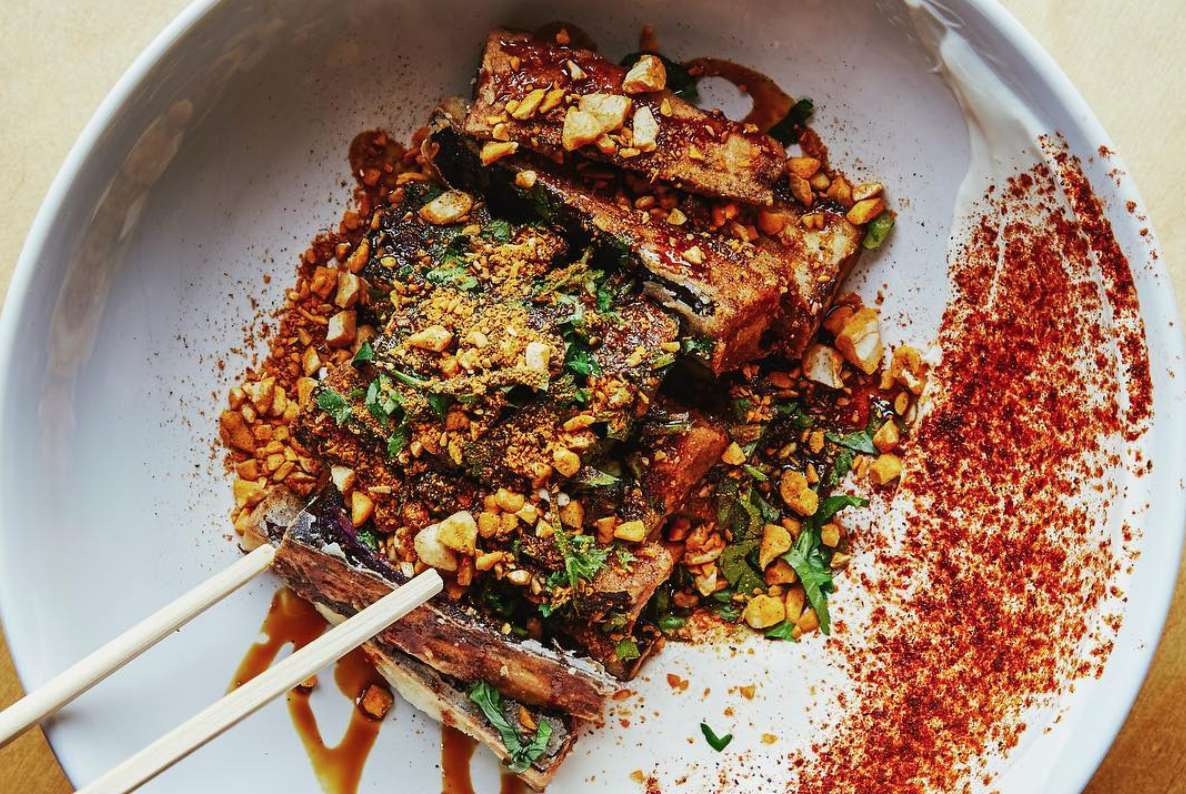 (Swipe right for the mediocre photo I took)
The eggplant dish. I'm not sure if I can look back on this without tearing up a little. The word Labneh was so far away from anything pertaining to SEA cuisine in my mind, yet here we are. The Lebanese strained yogurt provides a soft bed for the tender, fried eggplant, which had just been dancing in a pool of five-spice and cayenne-spiked oil (for your health, of course). The spicy cashews scattered over top provide a welcome textural contrast. This is a must-order.
(Swipe right for the mediocre photo I took)
The BEST peanuts. Somehow, the perfect snack legume was just made better. They're a snack that transcends generations and cultures in the first place (plus, I'm sure they keep it on the menu as a salty trigger for people to drink Taiwan beer). Spicy, and umami-laden, these peanuts are dangerous. I can attest - once you start popping them, you won't be able to stop. Win Son chef Trigg Brown shows you how to make them at home here, on Bon Appetit.
I can go on all day, and I could go to Win Son EVERYday, but my heart would quickly give out from both excitement and Zhajiangmian overdose. Maybe, with this restaurant recommendation in my back pocket, my Manhattan friends will actually come hang out with me in Brooklyn (they do a mean weekend brunch). Up to them though - I'll just be here at the bar, eating the BEST peanuts.
GO HERE! Just be sure to forget about any semblance of the hollow diet you were going to follow this week.
Shoutout to my good friend Adé, who previously worked at Win Son as a hostess. Without her, I'd likely still be sleeping on this powerhouse new-Taiwanese spot.